Homeschooling
Frequently asked questions and teacher email addresses.
BBC Radio Oxford VE Day Competition
How to make your VE Day 75 Great British Bunting
FSE Banner Design Competition to show support for the NHS and Key Workers
Liya's presentation of a story about life during the Holocaust.
Literacy
Three short Speed Sound lessons every day. These are provided by Read, write, Inc..
Interviews with authors and poets. Interactive blogging and teaching. Shoutouts to young writers and their writing read aloud.
Speling app that uses animations and memory links to improve spellings. It is free during school closures. Sign up and they will send you an access code.
For as long as school are closed, we're open. Starting today, kids everywhere can instantly stream an increadible (get it?) collection of stories, including titles across six different languages, that will help the children continue dreaming, learning and just being kids. All stories are free to stream on your desktop, laptop, phone or tablet.
Every day at 11am David Walliams is reading a short story from "The Worlds Worst Children"
Sit down, take a break and enjoy 20ish minutes of fun.
They are available to hear all day
There are also a lot of activites you can download and print relating to his different books if you go to the homepage.
Listen to different people read stories.
Oxford Owl
Lots of free resources for Primary age including online books and games to play.
With character quizzes, illustration tutorials, and interactive games, the Book Trust makes story time fun for the whole family.
Create lists and focus on spelling patterns to practice your spellings.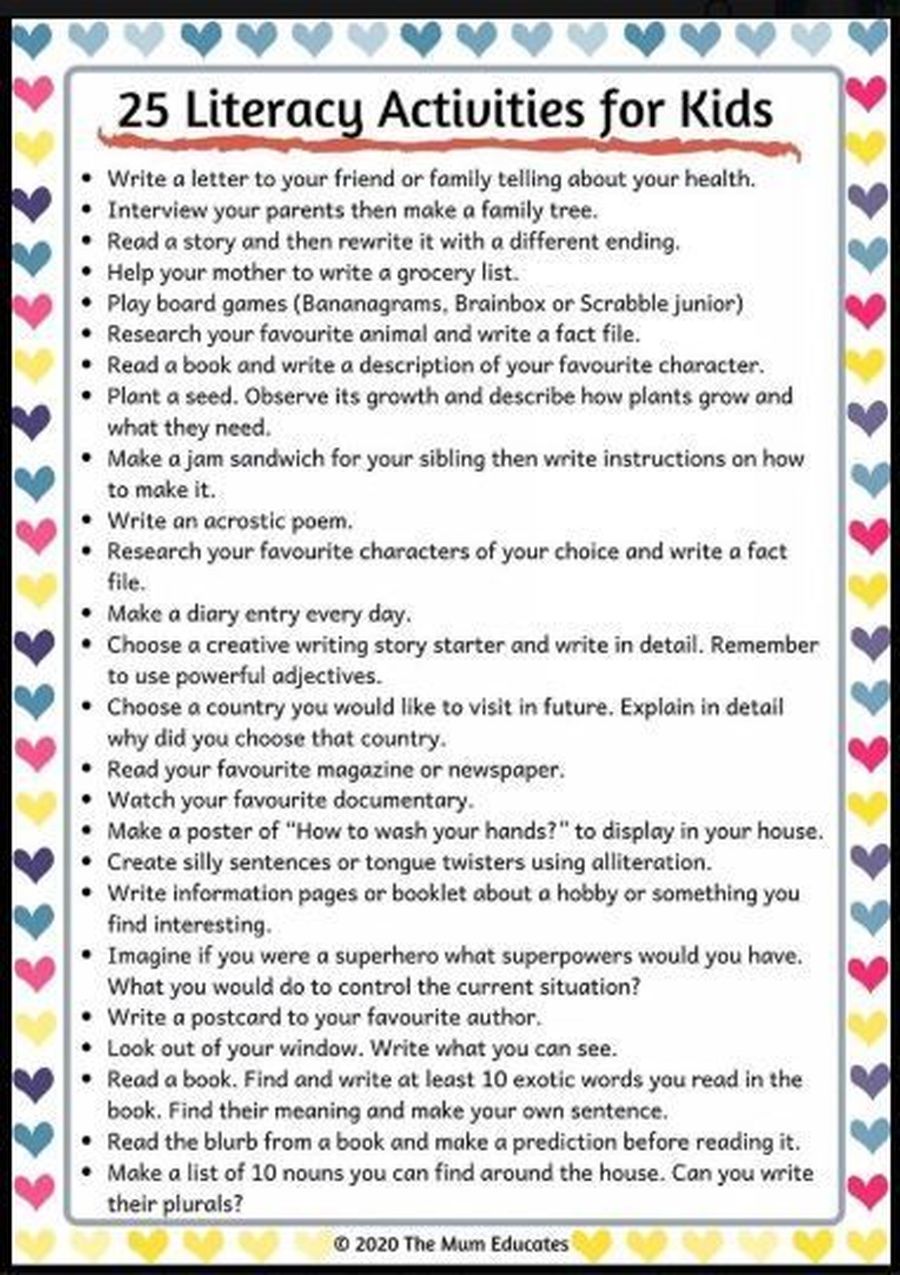 Maths
Always happy to help, the White Rose Maths Team has prepared a series of five maths lessons for each year group from Year 1-8. We will be adding five more each week for the next few weeks. Every lesson comes with a short video showing you clearly and simply how to help your child to complete the activity successfully.
Activity ideas to support different areas of maths.
This comprehensive archive has over 630 simplified mathematical terms along with more than 270 free printable maths posters that you can hang up around the house.
Please click the following link for 25 fun Maths activities and games to do at home
https://thirdspacelearning.com/blog/fun-maths-games-activities-for-kids/?utm_campaign=02_04_2020_25_Games_Activities_Blog&utm_source=pardot&utm_medium=email&utm_content=button
PE/Active
Get moving while learning.
A kids class with Strictly pro.
Get new activities to use with your children every day of the week using some of our best resources - absolutely FREE and straight to your inbox - EVERY DAY!
Whether it's a quick 2-minute active blast, 10-minute blasts with additional learning points, or full lessons; it's easy for parents and teachers to get children active in the home or classroom.
Music videos with dance moves to follow
Yoga for children
Great range of dance videos and relaxation vidoes.
Ways to keep active
Activity ideas including PE Home Learning, Active Breaks and 60 second challenges - I have downloaded some of these and added them to the document section at the bottom of this page.
Joe Wicks has been broadcasting PE sessions on his You Tube channel at 9am. If you have missed these or want to do them again you can find them and others on his You Tube channel.
Computing/ICT
Learn computer programming skills - fun and free.
Creative computer programming
Online safety games for KS2 children.
Geography and History
Activities and quizzes for younger kids.
Geography games
Geography gaming!
Printable paper templates for learning about geography
Your child may have to stay inside but that doesn't mean they can't get nature savvy. With the, National History Museum they can become Naturenaughts, plus learn how to identify different insects, plants, and fossils.
Travel back to 1666 on The Great Fire of London website, which makes history fun using Minecraft maps, a video game, and an interactive timeline of events.
Art and DT
Red Ted Art
Easy arts and crafts for younger ones
The Imagination Tree
Creative art and craft activities for the very youngest.
The Artful Parent is a site packed with fun craft ideas to get your kids thinking creatively. Many of them are well suited to younger children, and are fantastic if your little ones are starting to get bored or anxious.
You may never have tried soap carving or textile weaving but that doesn't mean your child can't. And thanks to Tate Kids they can access craft tutorials like this and even submit their artwork to be displayed in the online gallery.
Have a go at drawing.
Science
Mystery Science
Free science lessons
Get Body Smart is an examination of human anatomy, complete with animated text narrations and quizzes that will leave your child in awe of how the body works.
Inspire your child through the power of STEM with BP's Educational Service. Here, they'll find balloon rocket experiments and learn what happens when sugar dissolves into tea, along with a bunch of other cool experiments for ages 4-19.
You can always rely on the Science Museum to spark an interest in learning. And while there's nothing like being there in person, the website is packed full of creative games and activities.
Think your child would like to learn how to make a bird feeder? How about a snow globe? Or even binoculars? With Wildlife Watch they can do all this and more while learning about animals and the environment.
Worksheet activities to accompany the 'Our Planet' series
Watch the panda, penguins, tiger and koalas.
Watch the flamingos, lemur, giraffe and penguins.
Watch the African Savana, elephants and penguins